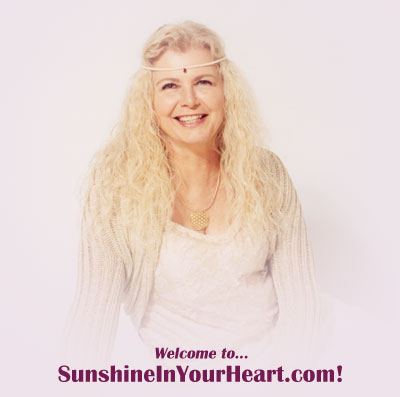 Welcome to Sunshine in your heart.
My name is Jan Diana, I am so happy that you are visiting my website.

These are times of great change and transformation, making unlimited potentials available for personal growth and expansion. In my practice, I love assisting individuals to elevate consciousness, reach their next levels of mastery and heightened levels of personal empowerment. I utilize many advanced tools as well as innate gifts and abilities that I have been given and have mastered.

As a gift to assist YOU on your path, I invite you to take advantage of all of the many FREE gifts and blessings that are under section, Free Telecasts. You will have the opportunity to experience some of the tools and gifts that I work with, as well as receive healing, clearing of blocks, and be offered many gifts and blessings for you to choose. You can visit often as there are many new opportunities continually added for you to enjoy.

If you would like to have a personal session, I am available for phone consultations. In a private session, we can address the specifics relating to any issues in your life. If you have a passion for personal advancement and empowerment, I can assist you to make master leaps in your ability to feel empowered and create the desires of your heart.
I am available for phone consultations and courses. Please refer to my
MENU OF SERVICES. Call or email now to schedule your appointment
May you always feel the Sunshine in your Heart.
Chanulanaha
Jan Diana
Contact: Jan Diana
+1-510-364-6605 (California)
Skype available
+1-510-364-6605 (California)
Skype available
"Jan Diana has helped me heal through numerous situations, almost too many to mention. I have had anxiety and panic attacks in the past that were pretty severe but Jan helped me to heal and feel incredible. Any time my body or mind is out of balance, I have a healing session with Jan Diana and I feel rejuvenated! Her healings and guided meditations are very powerful. I am a "spa junkie" and love to frequent the spa for facials, massages and other healing treatments. A guided meditation or healing session with Jan Diana leaves me feeling as rejuvenated and refreshed as a full day at the spa! I highly recommend you work with her. I especially recommend the temple of rejuvenation and crystal chamber healings! She is gentle, peaceful and powerful. You will LOVE it!"- Tania
COPYRIGHT © 2009 WWW.SUNSHINEINYOURHEART.COM ALL RIGHTS RESERVED