PRIVATE PHONE SESSIONS – 30 min, 60 min
These sessions are designed individually to assist the client with their personal desires.
I utilize the SVH and my many other gifts and tools.
30 Minute Phone Session-$62.00
60 Minute Phone Session-$125.00
REGISTER FOR CLASSES HERE:
Teleseminar- Mini Workshop- $33.00- Ancient Keys to Activating your flow of Abundance
Email Readings-For extra guidance and clarification in your life. Choose up to 6 questions you would like to have answered through email. Remember that your Free Will plays a part in the course of your life. I am not able to make choices for you, however I can help you to see the different possibilities that the paths that lay ahead will reveal.
TELE -COURSE INSTRUCTION IN SVH
SVH Level 1
SVH Level 1 Master Practitioner (pre-requisite required= Level 1)
SVH level 1 Animal Healing course (pre-requisites required= SVH level 1, Level 1 Mastery)
SVH Level 2 (pre-requisites required= SVH level 1 and Level 1 Mastery)
HEALING AND BLESSINGS FOR PETS, ALL ANIMALS for Pets,
-These are ways of loving working with your beloved animals and pets, all of God's creators. Topics that can be addressed are healing both physical and emotional traumas, bereavement, separation, physical injuries. There are many ways to bless and uplift the lives of the blessed one, loving, honoring and respecting them.
GUIDED MEDIATIVE JOURNEYS:
-Goddess Mother Healing Temple
Healing experience, spa, very relaxing and loving
-Golden Field of Dreams
This is about abundance, seeing self with no limitations, creating the dreams you desire
-Healing the Sacred Heart
On this Journey you will experience being in the presence of the Heavenly Mother, in her arms as she gives you personal blessings and instructions assisting you to heal your heart and open to the love that is flowing to you perpetually.
GROUP HEALINGS (3 or more)
A group session is about bringing more harmony and joy into your life through healing and releasing what has created the disharmony. It encompasses a journey to a healing temple as well as clearings of whatever is in alignment and you are choosing at that time.
email me for times available- $111.11 each- prepay when sign up so will receive the phone codes
ACTIVATIONS- group $111.00, single person $125.00
Special Offer! As a thank you to my clients who have referred a friend to me for a full 30 or 60 minute session, you have your choice of the two session discounts below.

I have been endowed and gifted by the Creator to offer these sacred
GODDESS MOTHER BLESSINGS of love to assist Masters on their pathways to enlightenment.
These are some of the Goddess Mother Blessings that are available now.
Each is completed in a gentle and loving way. Each blessing is calibrated for the individual by level of readiness and will assist them in going to the next level.
You may have these blessings more than once as they are based on readiness and acceptance.
1. GODDESS MOTHER BLESSING - AWAKEN THE SACRED HEART
Awaken and assist with opening the heart to more awareness of love and truth of self.
2. GODDESS MOTHER BLESSING -ONENESS
Assists you in opening your awareness to the oneness of all and shows you how to connect to source of oneness, God/Goddess.
3. GODDESS MOTHER- LOVE BLESSING
Assist in being open to feel the Creator's unconditional love
4. GODDESS MOTHER BLESSING- HEALING THE HEART
Transmutes blocks to an open heart, making the pathway open for more peace and harmony
5. GODDESS MOTHER BLESSING -GIFTS OF LOVE
To activate your personal gifts and to assist you in experiencing more joy, peace and in attaining new levels of Mastery
6. GODDESS MOTHER BLESSING- YOUR SACRED SELF
To align with your sacred self, increasing awareness of the truth of you, align with your sacred purpose and your sacred mission for this lifetime
7. GODDESS MOTHER BLESSING – Personalized Blessing & Healing—
All individualized, special blessings, healings and/or personal messages for you.
Each Goddess Mother Blessing is 1 hour and can be completed off- line after it is set up and confirmed.
You can have these blessings more than once, for each is based on readiness and desire.
PHONE CONSULTATIONS AND COURSES AVAILABLE.
CALL TO SCHEDULE YOUR APPOINTMENT!
510-364-6605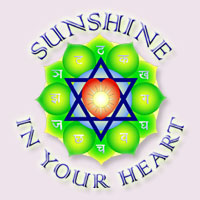 Heart Chakra of the Heavenly Mother, Goddess Creator
Disclaimer
As always, please consult with qualified health professionals before putting session or workshop ideas into practice. The ideas and techniques are not meant to diagnose or replace the need for medical attention or professional mental health care.
COPYRIGHT © 2009 WWW.SUNSHINEINYOURHEART.COM ALL RIGHTS RESERVED